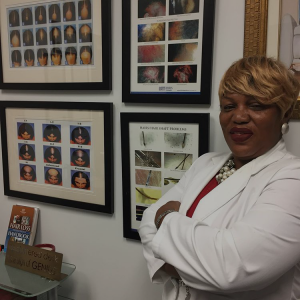 Experienced and certified hair dresser for over 30 years.
Barbara Brown was born and raised in Jamaica. She started her career at the age 22 as a Hair Stylist graduating at Gray Sophisticant School of Beauty as a licensed Cosmetologist. She came to Canada and continued her study at Barberino Hair Styling School. earning a hair stylist Diploma. In 2008, Barbara decided to open her own salon after seeing several clients that were experiencing hair loss. She studied Hair and Scalp Disorders and Diseases. She traveled to the USA to study with International Association of Trichologists (IAT) under the direction of David Salinger and Danyelle V. McBride where she earned a hair practitioner certificate and graduated as a Certified Hair-loss Practitioner. Her referral is from word of mouth and dermatologist.
Get on the list, always great news for cupons and discounts
Story
Toronto • since 1992
Trichologist
Trichology is the specialized science of the structure, function and disorders of the human hair and scalp. Currently, over 50 million men and 30 million women suffer from hair loss. There are various reasons why people experience hair loss. Each case is different and may call for different treatment but in the end everyone wants the same thing – hair restoration. Barbara Brown is a trained hair loss practitioner with years of experience in the diagnosis and treatment of Hair Loss and Hair Restoration. Barbara Brown gives customized treatment recommendations to both men and women. She also specializes in child hair loss issues. Her knowledge and skills have given us the ability to identify the causes of hair loss, hair thinning and scalp disorders. We have learned the importance of including nutrition and diet in our treatment programs to make every effort to restore the health of our clients' hair. You don't have to live with hair loss anymore!